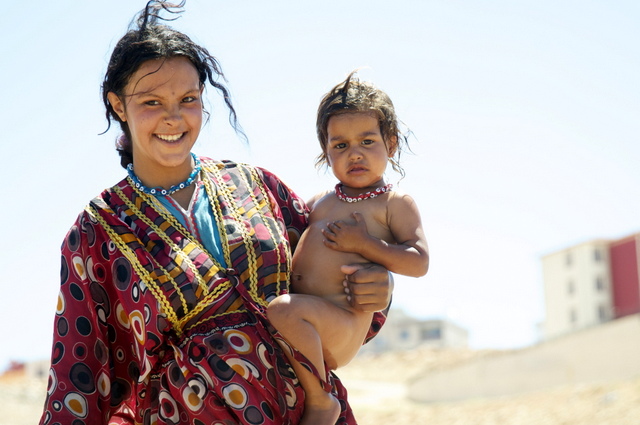 Syrian refugees are being ignored: The Gypsies
by Kemal Vural Tarlan
Documentary Photographer

A young graduate peddler initiated the civil commotion known as "Arab Spring" in Tunisia on the 17
th
of December, 2010. This uprising took place on Arab street which then spread throughout the Middle East. As a result of this uprising, several dictatorial regimes in the Middle East, which have been in power almost half a century, have been losing power one by one. When the uprising reached Syria in March 2011, it was assumed that the Baas regime would lose power shortly thereafter. The expectation was that there would be a regime change in Syria. On the contrary the Syrian regime is still standing due to religion the ethnic diversity of Syria, geographical location political links among diverse groups under the Bass regime and international stability.
The war is now in its 3th year; and has caused over 70 thousand deaths throughout Syria. Millions from various ethnic groups have had to flee their homes and hometowns. Over a million Syrians have left their country to flee to neighboring countries some of them were force to immigrate to comparatively safer cities outside of Syria. Today, they are trying to survive in camps and rental flats in these neighboring countries. For over a year, I have been conducting a photographic documentary with regard to Syrians who are acknowledged as "guest" in cities near Syria`s borders and as refugees or asylum seekers by international law. I have been photographing these individuals as they are working on farms or as they are sweating through daily factory work fleeing minefields in fear, staying in their tents or flats in tears. Most recently, I have been trying to photograph every moment in their lives in order to be a witness to history.
The reality of the Syrian people is as similar as in this region itself, together among different ethnicities, beliefs and cultures, leading us to understand a common sequence of
Throughout these people and communities, there is an ancient group who have been living not only in Middle East but also throughout the world. There are hundreds of thousands of gypsies, known as Dom, Dummi, Nawar, Kurbet and Zott, who are able to speak several of local languages in addition to Kurdish, Domari, Turkish and Arabic. These gypsy groups live throughout Syria as nomads or have established themselves, settling and integrating among Syrian locals.. In the beginning of this century, gypsies were divided by artificial borders of other nations. Even though they are living in different countries, they have been being in communication between their relatives. There have also been marriages between relatives. After the outbreak of the most recent civil war, they were exposed to discrimination by other people and have tried to flee to cities where other relatives are living. There is a simple reality for these people even if they live in different countries; they share the same destiny. These people, who have a very low quality of life, are humiliated, scorned, discriminated against and ostracized out of work by groups more dominant than the gypsy groups.
Gypsies who have lived in Syria over the last 2 years have found themselves in a war where they have no side. In an empty area, in a station near Gaziantep. I came across a group of people who try to live in cloth and plastic tents. This camp consists of mostly women and children. The men have moved to districts closer to the city in hopes of finding jobs. Children run around inside the tents, with a piece of dry bread in their hand and nothing other than few blankets inside the tents. They came from Aleppo. "Opponents entered our hometown. Syrian Army came to tell us war planes are going to come and bomb our homes and that we must leave. So we abandoned our houses and property and left. News has since arrived that it is now bombed. We no longer have houses." said young women, who had tattoos on her hands and face. Then I asked the question "Which side were you supporting?" -She answered" For us there is no difference between sides. Our houses are bombed; we were miserable all the time, and now we're all in need of food.
A man named Hasan and I have had a conversation about Dom people in Syria. Hasan is 17 years old, married and has 2 children. He placed his tent in a district in Nizip where DOM people live. He pitched his tent with help from people who live in the district. In their tent there are 9 people in total, including his father-in-law, sisters and brothers. Hasan can speak fluent Domari, Kurdish and Arabic. He admits that he is a Domari. Gypsies who came from Syria cannot speak Turkish. They introduce themselves as Kurdish and those who speak Turkish are primarily Kurdish and gypsies from Turkmenistan. He points his finger to another tent and says: " don't believe them they say they are Kurdish but they my relatives and used to live on the road behind my house in Aleppo." We continued to talk about his relatives in and around Syria.
I have gained these information from Hasan and other people that i have spoken to; Latakia is the place gypsies fight hardly as well as air attacks happens hardly. They say that people had to immigrate to cities that in west Syria for example like Sham or cities that controlled by Kurdish community/ society like Afrin, Kobani or Qamishli. Those, who are indeed craftsmen such as dentist, blacksmith, circumciser, sieve-maker, musician and tinsmith, can`t carry out their crafts due to industrialization, modernization in production and laws. Hasan was a construction worker in Syria; if they needed him to work in Turkey, that is where he went for work. "Turkish employers work for 80 lira; however, we work for 40 lira even though there isn't much work for us. We usually only work once a week. Soon, my family will move to Mersin where children and adults alike will harvest strawberries. It looks like this war will never end; and when it does, I will go to Aleppo."
A crowded group of asylum seekers under an almond tree which just came into bloom on the edge of a wasteland get irritated when they see me behind the Imam Keskin district of Urfa. They don't speak more than a few words even if they were sure that I'm not a public servant. The old ladies curse people who they feel caused "their current situation" as they leaned their backs against an almond tree, among the almond flowers. While I was leaving there, one of them was yelling at me "don't let them know where we are by taking pictures." Two days ago, Syrian Gypsies` tents were burned to ruins in the Yenice district nearby by police who acted upon complaints from residents around that district. There were no references to gypsies in the news, only mentioning that the "Syrians` tents were burned" in national press. The asylum seekers had been trying to run away from police for the last two days here. They were forbidden from staying in the tents in these districts by local authorities due to prejudice, complaints and visual pollution.
In recent days, the gypsies sought asylums from Syria fleeing to our country mostly try to live in crude flats, sheds, and around poor districts. Their relatives, who live here, set up tents near their house walls even if they don't have any bread to share. They go together to collect papers, dilapidated goods and a piece of bread from streets. But many of them still live in crude tent which are set up near cities, towns or villages along with border from Mardin to Antakya.
They were accused of stealing and immorality, discriminated against by Arabs, Kurds, and Turkish residents in camps even if they managed to hide themselves in those camps due to their ability to speak Arabic, Turkish and Kurdish somehow after entering the camps successfully. On the other hand, they were discriminated agians and exposed the same prejudiced acts of the camps` management until they no longer have the desire to stay in those camps.
Most of them have been staying away from camps and have returned to a nomadic life style again in order to be not humiliated by "gadjos" and not being imprisoned in wire netting. They have been preparing to go to work as joppers in Mediterranean and Mid Anatolian region as a cheap labor force the as temperatures increases. It is said that they are working in those areas for 5 TYL per person per workday.
In conclusion, the Gypsies were the victims of the "civil war" which started among those who have been living together among various religious and ethnic groups. Gypsies in the Balkans suffered significantly during the disintegration of Communist Bloc countries. Thousands of gypsies were forced to immigrate from where they had lived by armed radical Shiites in Iraq due to "their insufficient Islamic believes". At that time, most of them had to take refuge in Syria. During the uprising in Middle East which has now entered its third year, the gypsies find themselves in the middle of conflicts as history repeats itself. News coming out of the press claims that the living conditions among gypsies is becoming more troublesome.
The new authorities in these countries have taken on a new strategy as a result of these uprisings; regarding religious and ethnic minorities, including gypsies, and have not taken any physical steps, only evasive promises. As long as these subjects are neglected by politicians, and the equality of religious and ethnic minorities, in addition to overall peace and equality, are overlooked, the multicultural structure of the Middle East will continue to deteriorate.
TRANSLATED BY Sedat Çiçek

Kemal Vural Tarlan – Documentary Photographer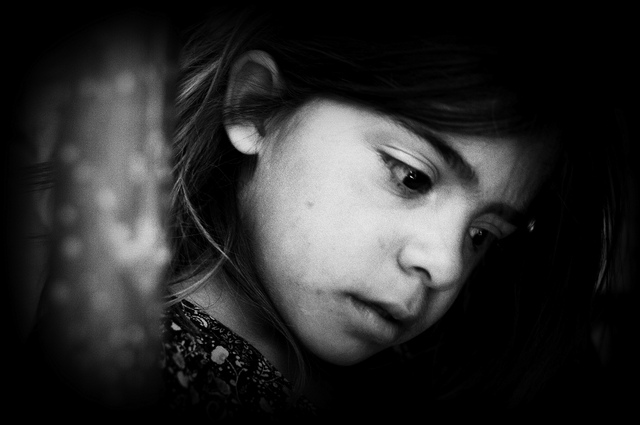 Taraf olmadıkları bir savaşın ortasındaki Suriyeli Çingenelerden sığınmacı olarak Türkiye'ye gelenlerin sayısı belli değil...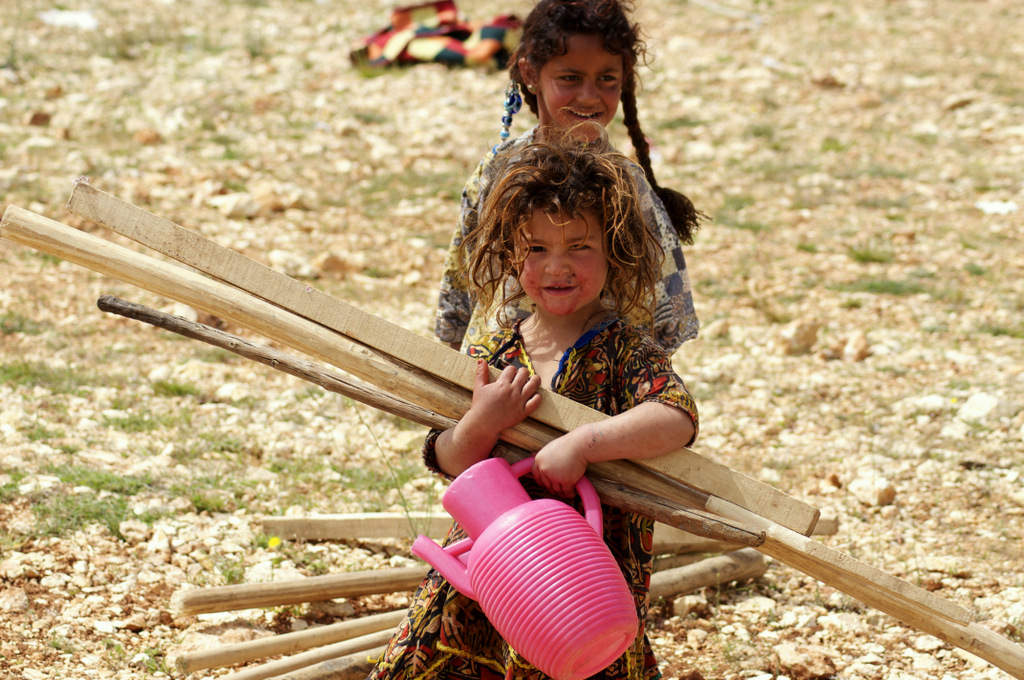 Suriye

'de üçüncü yılına giren savaş, 70 binin üzerinde insanın canına mal oldu. Her etnik gruptan, milyonlarca insan yaşadıkları yerlerden ayrılmak zorunda kaldı. Bunlardan bazıları da Suriye'de Dom, Dummi, Nawwar, Kurbet, Zott gibi adlarla bilinen, Domca, Kürtçe, Türkçe ve Arapça dillerinden birkaçını konuşabilen, yerleşik ve yarı göçebe yüzbinlerce Çingene. Onlar da göç dalgasıyla akrabalarının yaşadıkları kentlere ulaştılar ama göçte bile diğerleri tarafından horlanıyor, dışlanıyor, aşağılanıyor, işsiz bırakılıyor, ayrımcılığa uğruyorlar. Yani ekonomik ve toplumsal olarak 'sıfır noktasındaki' bir halk olarak varolmaya çalışıyorlar. Üstelik, Suriyeli Çingeneler iki yıldır kendilerinin tarafı olmadıkları bir savaşın ortasındalar. 
Gaziantep otogarına yakın boş bir arazide, bez ve plastik çadırlarda yaşamaya çalışan bir gruba rastlıyorum. Kadınlar ve çocuklar çoğunlukta, erkekler iş bulmak umuduyla yakın mahallelere gitmişler. Çocuklar ellerinde kuru ekmeklerle koşturuyorlar çadırlarda, birkaç battaniye dışında, neredeyse hiçbir şey yok. Halep'ten gelmişler. "Mahallemize muhalifler girdi, askerler gelip burayı uçaklar bombalayacak, terk edin dediler, biz de evlerimizi bırakıp çıktık. Haber geldi bombalanmış, artık evlerimiz yok" diyor, elleri ve yüzü dövmeli genç kadın. Peki siz hangi tarafı tutuyordunuz manasındaki soruma, "Bizim için değişen bir şey yok, evlerimiz yıkıldı, zaten her zaman perişandık, şimdi ekmeğe muhtaç olduk" diyor. Sığınmacı Çingeneler'in sayıları hakkında tahminde bulunmak çok zor. Ama kişisel görüşmelerimin sonucunda Antep'te kamplar dışında kalanların 1000-2000 arasında olduğunu söylemek mümkün. Antep'in Karşıyaka, Çıksorut ve Şirinevler gibi Çingenelerin yaşadığı mahallelerde de çok fazla sığınmacı var. Ve tabii ki kentin çeperindeki tarihi Çingene konaklama yerlerinde göçebe gruplarla sık karşılaşmak mümkün.

"Burada olduğumuzu bilmesinler"

17 yaşındaki Hasan, evli ve iki çocuğu var. Nizip'te Domların yaşadığı mahallenin hemen yanına, mahalledekilerin yardımlarıyla kurmuş çadırını. Eşinin babası, kız kardeşleri ve erkek kardeşleriyle toplam dokuz kişi kalıyorlar. Domca, Kürtçe ve Arapçayı iyi biliyor. Dom olduğunu saklamıyor. Suriye'den gelen Çingeneler, eğer Türkçeyi bilmiyorlarsa, Kürt olarak tanıtıyorlar kendilerini, Türkçe bilenler Türkmeniz diyorlar. Karşıdaki çadırı gösteriyor, "İnanma sen onlara, Kürt olduklarını söylüyorlar ama onlar bizim akrabalarımız, Halep'te arka sokağımızda oturuyorlar" diyor. Suriye'deki akrabalarından ve Suriye'den konuşuyoruz. 
Hasan'la ve daha pek çok konuşmadan sonra durumu şöyle özetlemek mümkün: Suriye içerisinde kalan Çingeneler, çatışmaların ve hava saldırılarının daha az olduğu Lâskîye, Şam gibi daha batı illerine ya da Kürtlerin denetimindeki Afrin, Kobani, Kamışlı gibi kentlere göç etmek zorunda kalmışlar. Demircilik, kalaycılık, kalburculuk, dişçilik, sünnetçilik, müzisyenlik gibi meslekleri yapan bu topluluklar, son yıllarda gerek sanayileşme ve üretimin modernleşmesi gerek yasalardan kaynaklı yasaklardan dolayı zanaatlarını icra edemez duruma gelmişler. Yalnızca müzisyen gruplar, düğünlerde ve eğlencelerde müzik yaparak hayatlarını devam ettirebiliyorlar. Diğerleri ise inşaatlarda demircilik, hurda ve kâğıt toplayıcılığı gibi geçici işlerde ve tarımda mevsimlik işçi olarak, çok düşük ücretlerle çalışıyorlar. 
Hasan da Suriye'de inşaatlarda demir işçisiymiş, burada iş olursa çalışıyor. "Türkiyeli işçiler 80 liraya, biz 40 liraya çalışıyoruz ama yine de iş yok. Haftada bir ancak iş oluyor, yakında buradaki akrabalarımla Mersin'e gideceğiz, çilek toplamaya, çoluk çocuk çalışırız, nasılsa savaşın biteceği yok, savaşın bittiği gün dönerim Halep'e" diyor.
Urfa'nın İmam Keskin semtinin arkasındaki boş arazide, yeni yaprağa dönmüş badem ağacının altına sığınan kalabalık grup, beni görünce tedirgin oluyor. Kamu görevlisi olmadığıma emin olsalar da birkaç cümleden fazla konuşmuyorlar. Yaşlı kadınlar sırtlarını badem ağaçlarına dayamış, dökülmüş badem çiçekleri arasında "onları bu duruma getirenlere" beddualar ediyor. Ayrılırken ardımdan bağırıyor biri: "Fotoğraf çekme, burada olduğumuzu bilmesinler." Bilinmemek önemli. Çünkü birkaç gün önce onların olduğu yere yakın Yenice mahallesindeki boş arazideki Suriyeli Çingenelere ait 50'ye yakın çadır, zabıta ve polislerce sökülüp yakıldı. Çevredekilerin rahatsızlıkları ve şikayetleri üzerine elbette. Ulusal basında "Suriyelilerin çadırları sökülüp yıkıldı" başlığıyla yer bulan haber içerisinde Çingenelere dair bir tek kelime yoktu. Birkaç gündür buraya sığınmış olan aileler, polis ve zabıtalardan kaçmaya çalışıyor. Özellikle yerel yönetimlerin görüntü kirliliği; yerel halkın ise önyargılardan kaynaklı şikayetleri nedeniyle çadırlarda barınmalarına da izin verilmiyor. 
Suriye'den ülkemize sığınan Çingeneler, çoğunlukla kentlerin yoksul semtlerinde derme çatma evlerde, barakalarda yaşamaya çalışıyor. Buradaki akrabaları, paylaşacak ekmekleri olmasa da, evlerinin duvar diplerinde onlara çadırlar kuruyor. Hurda, kâğıt ve bir parça ekmek toplamaya birlikte çıkıyorlar. Ama hâlâ büyük bir çoğunluğu Mardin'den Antakya'ya sınır boyunca kentlerin, kasabaların ve köylerin çevresinde derme çatma çadırlarda yaşamaya çalışıyor.

Günlük 5 lira

Bir şekilde kamplara girebilmeyi başaranlar, kendilerini bildikleri dillere göre Kürt, Türkmen, Arap olarak gizlemeye çalışsalar da, kampın Arap, Kürt ve Türkmen sakinleri tarafından dışlanıyor ya da hırsızlıkla ve ahlaksızlıkla suçlanıyorlar. Diğer yandan kamp yönetimlerinin de önyargılı tutumlarına maruz kalıyorlar ve kamplarda barınamaz hale geliyorlar. 
Pek çoğu da, tel örgüler içine hapsolmamak, gadjoların aşağılanmalarına uğramamak için kamplardan uzak duruyor ve yeniden göçebe hayata dönüyor. Niyetleri, havaların ısınması ile birlikte mevsimlik işçi olarak Akdeniz ve Orta Anadolu bölgelerine ucuz işgücü olarak gitmek. Gidenlerin Çukurova'daki tarlalarda günlük 5 liraya çalıştığı söyleniyor.
Çingeneler yüzyıllardır birlikte yaşadıkları halklar, etnik ve dinsel gruplar arasındaki "içsavaşların" kurbanları oldu. Balkanlar'daki Romanlar büyük acılar çekti. Irak'taki onbinlerce Çingene silahlı radikal Şii gruplar tarfından, "yeterince Müslüman olmadıkları" gerekçesiyle, yaşadıkları yerlerden göçe zorlandı. Pek çoğu o dönem Suriye'ye sığınmak zorunda kaldı. Mısır'da sayıları milyonları bulan Çingene topluluklarının yaşam koşullarının gittikçe zorlaştığına dair uluslararası basından gelen haberler de durumun hiç de iyiye gitmediğini gösteriyor. 


* Belgesel fotoğraf sanatçısı



The Dom: Syria's Invisible Refugees
More than 70,000 people have been killed and hundreds of thousands left homeless by the civil war in Syria, spreading misery among all of the nation's ethnic and religious groups.

But one ethnic minority has undergone more than its share of suffering — both during the current fighting and for centuries preceding it — and few outside of Syria know much about it. The group is known as the Dom and it has been a presence in Syria since before the Ottoman Empire. Voice of America

Dom (Rom, Gypsy, Çingene, Qereçî, Gypthos, Zingari, Tigani, Basa,) in Turkey
http://www.flickr.com/photos/kemalvuraltarlan/sets/72157600038148962/show/
Free Spirits of the World: Nomadic Gypsies
Nomadic Gypsies and their culture in south east of Anatolia (Turkey) provided the impetus for my photographic project. At this cities Gypsies live with Kurds. Gypsies call themselves "Kurd Domlari" (Kurd Dom)
Today, there are some Gypsy villages and communities in the South East of Anatolia. Some also live in the cities and have become an integral part of urban life. Other Gypsies are nomadic and either travel in wagons of cars, or they ride on horses.
The Dom in Turkey are called as Cingene, Kipti, Pos¸a (in Eastern Anatolia), Mirti (in Hakkari, Mardin, Siirt and South part of Van), Abdal (K. Maraş), Dom (Van, Hakkari), Gevende (Adıyama) Kocer, Arabaci (the ones who use horse carriages) etc., or with the pejorative "esmer vatandas¸" ("brunet citizen")(Edirne).
In the language spoken by the Dom people in Turkey, you can encounter words from some Turkish dialects spoken in Anatolia, from Kurdish or Greek. The language of the traveller groups (Gypsies call Domari) in Anatolia is obviously assimilated, so Domari language is mixed with Kurdish, Turkish, Persian or Arabic words.
I started this project in 2005 and will return every year to continue it. Aim of my project is to create Nomadic Gypsies lifestyle and their ability to survive in a rough environment at the south east of Anatolia. My interest is not in the romantic point of view about the Nomadic Dom (Kurdish Dom), but in the realities of daily life for them by Photography.
Kemal Vural Tarlan
DÜNYANIN ÖZGÜR RUHLARI: GÖÇER ÇİNGENELER